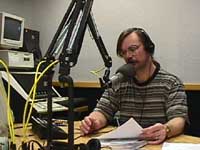 BRIAN BORYSEWICH
Brian's "AVERAGE KIND OF GUY" approach and clear focus on the internet make the show a definite winner. Brian's 35 years of computer experience has enabled him to take his knowledge to the public and become their resource for information and help with the Internet, operating systems and computers in general UNIX PREFERRED.
The "Net Head" either knows the answer or will get it for you. The show's low-key approach and interactivity with on-line and on-air participation by the listening audience provides a new facet to talk-radio.
If you want entertainment or additional information on new technologies and products, here's the place to be!
---

WEBULA
Kicking and screaming, Radio Dude pulled Webula into co-hosting the show with him about 3 years ago. Originally too shy to say anything, Webula, just won't shut up now.

With 25 years of computer experience and 12 years internet design, Webula has her definate opinions on web design, browers and web building software.

If you want to hear the down and dirty without sugar coating, Webula will deliver. Informative and wacky, Webula will definately let you know how to design a page as well as how to market it.