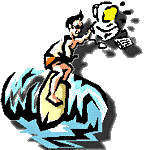 Sponsors
Surf's Up would like to thank and acknowledge our sponsors. Without their support, we would not be on the air!
Las Vegas Digital Internet — Internet Service Provider in Nevada. Offering global Internet roaming service, Front Page Extension support, web based e-mail and MORE — a great company!.
NetStat Associates — A full-service network design and installation consulting firm dedicated to Client/Server enterprises. NetStat also provides low-cost access for your website, as well as design and consultation.
Opportunity Village — The largest provider of vocational training and employment for people whith disabilities in Nevada.
Best Buy — One of the largest computer products retailers
America West Airlines — The way to fly!!!
Frys Electronics — Your Technology Headquarters
To advertise you can E-mail or write to:
Surf's Up
12-B Sunset Way #214
Phone: (702)
Fax: (702) 363-6230
E-mail: surfsup@radiodude.com
E-mail questions and comments are taken during the show at surfsup@radiodude.com
---
In the Las Vegas area fax 702-363-6230 for advertising information.