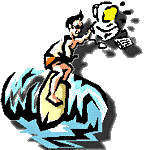 FIXING E-Mail Problems
Call during the show 731-1230

If your e-mail is taking longer than usual to download, check your mail program's settings. Your software may leave copies of messages on the Internet service provider's server after retrieving them, resulting in an overstuffed mailbox that takes a long time to access and might even bounce mail back to senders.

Most e-mail programs are set up to automatically delete downloaded mail. But don't just trust your software: Follow the steps below to make sure it's configured right.

IN NETSCAPE MESSENGER, select Edit, Preferences. Highlight "Mail Server" under the Mail & Groups category, and in the Mail Server Type box make sure that "Leave messages on server after retrieval" isn't checked.

IN OUTLOOK EXPRESS, select Tools, then Accounts. Click the Mail tab, select the service, click the Properties button, click the Advanced tab, and choose among message removal options in the Delivery section.

IN EUDORA, select Tools, then Options. In the Options dialog box that appears, click the Checking Mail icon. Deselect the check box marked "Leave mail on server." Click OK.

If you're using filtering rules to winnow out spam or messages with large file attachments, make sure those unwanted message aren't lingering on the ISP server. Temporarily clean house by deactivating any filtering rules you've set up, then logging on to the server to download any existing e-mail.

Creating New Outlook Profiles

If you have multiple e-mail accounts in the same service, or if you share your desktop with another person who has a different e-mail address, Outlook doesn't let you add the service twice in a single profile. Instead, you need to create a new profile, add the service, and then configure it for the other account.

If you share your computer with other people, you can set up a profile for each person to use.

To create a new profile, follow these steps:
In Outlook, select Tools | Options to display the Options dialog box.
In the General tab, activate the Prompt for a profile to be used option (if it isn't activated already) and click OK.
Select File | Exit and Log Off to quit all messaging applications.
Restart Outlook. You'll eventually see the Choose Profile dialog box
Click New. The Inbox Setup Wizard appears.
Select which Information services you wish this Profile to access. Here you can choose to have them get their Exchange Mail off of our server as well as Internet E-mail.
Name the profile for the User (ie newname)
If you selected Microsoft Mail earlier in the services dialog you will be prompted for the location of the postoffice.
If you selected Microsoft Mail earlier in the services dialog you will next be prompted for the user name from a drop down list.
Again if MS Mail was selected the user password is requested
Internet Mail will ask if you want to use a modem or lan connection.
You will now be asked for the address of the POP3 (incoming mail) server.
You will be asked if you should work offline or download mail Automatically. Automatic should be checked.
The e-mail address and full name of the user of the profile is now requested. This is what appears in the reply headers of e-mail
Next you are asked for the mailbox name and password. Use the user name without the server info (ie newname) and the correct password for this account.
The path for the addressbook is now requested. You might consider setting up unique addressbooks for each user so they can store their own mail lists in them.
The path and location of the personal mail folder is now requested. You will need to create a unique folder for this account to store its mail in.
A dialog now appears with the services you selected. Press Finish
You're now returned to the Choose Profile dialog box, and the new profile is selected in the Profile Name list.
If you want this profile to be the default (the one that is selected automatically in the Profile Name list each time Outlook is started), click the Options>>button, and activate the Set as default profile check box in the expanded dialog box.
If you want to run through the logon screens and options for each service at startup, activate the Show Logon screens for all information services check box.
Click OK. Outlook then loads the profile.
Now each time outlook is started the user profile is requested. Simply select the profile you want to use and that mail will come in.
---
Ask questions about The Internet and World Wide Web by calling in during the show at (702) 731-1230.

E-mail questions and comments are taken during the show at surfsup@radiodude.com during the Broadcast.

Ask technical questions, even call in and help others, compete for prizes and learn about cool and fun web sites each and every show. Each show and it's broadcast and web sites featured are archived for your future enjoyment.

Tell your friends about

Nevada's first and only Internet Show and we'll see you each and every Friday!

..
In the Las Vegas area call 702-731-1230 for more information.