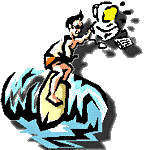 Our Listener Recommendations
Mohawk Internet Technologies

Thanks to Karin E. Gross

Kelley Blue Book - Guiding The Car Buyer www.kbb.com

School Information and School Reports, School... http://www.nsrs.com/

AOL DISCONNECTING YOU?
were are many "Stay Connect" or Kill idle timer programs out there, some free some not. I use this little file called WizOn, it is no longer free, but it is small and works with all versions of AOL with or without Power Tools (an AOL add-on). I will include this since I think it is the best so far, I put it in my start up folder then it takes care of all the "Nag" screens and idle timer screens.

AOL Timer Zapper - Popup Monitor

Thanks to KEGs@aol.com (9/11/98)

There is an option to download IE 4 with the AOL 4 download. I had it at one time, but was able to safely uninstall it. The current downloads do not auto upgrade IE 3.02. There appears to be a choice when you have Windows95 and download the AOL 4. AOL's Webmaster Website

For folks having quirky problems, such as e-mail problems, going to Keyword: Pulse Of AOL will let them see if there is maintenance going on that may be affecting that particular feature.