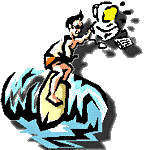 Best Sites for the Family

Kid Source Online features the latest issues affecting your child's health and education. Not splasy or cute. The online discussions features parental give and take on medicalissues ranging from allergies to spinal fusion. Devoted primarily to a smart collection of articles culled from a variety of sources, the site recently featured an update on spanking and a guide to kindergarten readiness.

Parents Place Geared toward new parents. Highlights vivid personal essays about giving birth and "Ask An Expert," which features advice from a midwife and lactation consultant.

Parent Soup Striking a balance between serious parenting information and lighhearted fun. You can weigh in on the daily parent poll, electronically post your favorite family photo on the site's cyberfridge, visit the cartoon gallery or get your daily horoscope. Parent Soup also allows you to interact with a variety of on-site experts who each answer ten questions a week.

Family.com From Disney, the site offers great ideas for keeping kids busy, including 365 TV-free activities and links to family-friendly events in your area. Also available are bulleting boards where visitors can read and post travel, health or other messages.
Moms Online Mons Online is more like a pep rally in cyberspace; seeking to connect mothers and cheer them through their daily routines. Visitors can chat on a variety of subjects and those feeling stressed can tour the sites collection of relaxation techniques. Each week one mom gets the Tiara Treatment- fifty dollars and a cosmetics gift certificate - while another deserving parent is profiled as Mom of the Week.

Parentime features names like Dr. Spock, Dr. Bill Sears and his wife, Marths and Good Housekeeping's Dr. Nancy Snyderman.

The Family Education NetworkLearn about the latest trends that affect your child's schooling. Recent topics include national testing standards, alcohol policies at college and the shortage of substitute teachers. Also offers links, including connections to elementary and secondary schools in more than 20 states.

Adoptive Families of America Thinking of adopting, or want to connect with families who have already done so? Check it out.

The Disabilities Resources Monthly Webwatcher Has good links and support for parents and kids on children with special needs
Send Your Name to Mars
NASA's looking for one million school age children's names from around the world to send to Mars.

Idea BoxFormerly called "Preschool Pages," this site is dedicated to the education of young children. It contains ideas, articles, projects, seasonal themes, and printable pages to help teach kids in a fun and interesting way. This is a "don't miss" page for parents and grandparents, teachers and homeschoolers, and anyone who ever plays with children!

Bry-Back ManorThis wonderful site will be a hit with anyone with children of younger ages or those with special needs. Well developed activity sheets and suggestions are available to print out with special themes and holidays featured. Mac users will find all sorts of fun software to download.

ACEKids for Parents

Turn your computer into a true family learning center but one that is fun. This part of the Academic Center for Excellence site will give you help selecting hardware and software for different ages and ability levels. The page also has a section for kids with stories, links, and contests.

Live And Learn--The Learning Page This is a commercial site with lots of non-commercial information: free software, online games (even for preschoolers), informative articles, helpful tips, resource materials, and interesting links.

Publications for Parents Dozens of publications for parents such as Helping Your Child Learn Science (for ages 3 and up) with suggested activities to do at home to help your child in school. There are individual files for each subject or area. Other publications include guides for preparing for college, academically and financially. A Spanish version is available. A link from the U.S. Department of Education.

Tigger's Children's Shareware Page Here is the link to a collection of pointers to children's shareware (Mac and PC), a list of demos for commercial children's programs, and a list (with descriptions) of Shareware and Freeware enjoyed by Grace Sylvan's family. There are several mirror sites. [UK] [Russia] [Portugal] [Greece]

Web 66 The aim is to encourage the use of technology and specifically the Internet in schools. Homepages of schools are included as well as information to set up service in a school and software. A Windows NT Resource Center has been added.

Foam Bath Fish Time This classic site remains a fun way to find out the time right this minute in any continental US time zone or Greenwich Mean Time.

Aunt Annie's Craft PageEvery season Aunt Annie has special crafts ready for you to enjoy. Make a different paper project each week. Just follow the detailed instructions with patterns to print out. Previous weeks' crafts are also available.

Stage Hand Puppets Activity Page Make interactive puppets right online. How about 101 Dalmatians (with wagging tails!)? Download patterns to make paper puppets, Write and perform in an online play. Get hints for making other kinds of puppets and performance and ventriloquism tips. For more information on puppets try The Puppetry Home Page. To learn more about ventriloquism go to Read My Lips

.

Blue Mountains Arts Here are wonderful free animated greeting cards to send to friends and family. How about a bear hug for your grandfather? You will find it lots of fun just to look around the site. For some of the cards, you will need to have a browser that can handle Java, and a little time for the images to load.
BU Interactive WWW Games Games to play online: Tic Tac Toe, Pegs, Minesweep, 9 Puzzle, Hunt the Wumpus (an interactive multi-player game), and more. Some of the games offer a non-graphical option. Java games like Battleship are here as well. You play Battleship against the computer. Give it time to load and then the game goes very quickly.

Live And Learn - Preschool Learning Page These simple educational games will help preschoolers begin to develop math skills. (Basic number recognition, number concepts, and simple addition and subtraction.) So sit that little one on your lap and play a game right now. For children ages 3 1/2 to 5 years old with adult help.

Kino's Matching Game You know Kino from the PBS show Storytime. Start at the lowest level and work your way up to the hardest puzzle of all. Put the youngest ones on your lap and have them select a square and identify the pictures. (Preschool to 10 years)

LegoThe official Lego site. Java games, information about Lego products, services, and history. Lots of neat animated gifs. Connection and loading can be a slow. Be sure to check out the Surfer's Club where you can set up your own bookmark page and download wallpaper and screensavers. They ask for a lot of information but you only need to give your name (and that can be fake) and bookmark links. As always, ask a parent to fill out the form with you.
The T.W.I.N.K.I.E.S. Project What some people will do to put off cramming for finals! You're going to have to go to see what this is all about. Yes, it does involve those delicious vanilla-cream Twinkies.
---
In the Las Vegas area fax 702-363-6230 for advertising information.