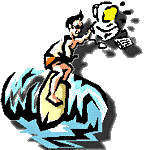 Top Ten Desktop Accessories
by Sally Neuman, FileWorld Sysop
June 19, 1998

It's easy to change many system features to make your desktop more useful and more stylish. You can replace boring and uninformative folder icons. Files you've deleted can be permanently purged from the Recycle Bin. You can make windows open with more flair and style, or even set up a pair of eyes to follow your mouse cursor across the desktop. This group of utilities and accessories will entertain you, assist you, and even direct you to better and more efficient ways of accomplishing your daily tasks.